Friday, September 17, 2004 - Our Adventure Begins"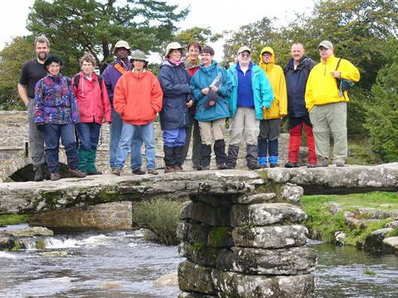 Baker's Dozen with Andy Wilkes [second from right]

Chapuline/Geri
Rubaduc/Roberta
Butterfly/Nancy
Lobsta Lady/Bonnie
Sewsobizzy/Judy
Talking Turtle/Alexis & Lasvicious Lion/Hugh Carrington
Rusty Puff/Kim
CSCM/Christopher
Lazy Letterboxer/Deanne & Letterboxing Ham/Dave
Mark & Sue Pepe
8:26 am
I'm waiting for Sue to come downstairs for breakfast. I have had a restless night - I think the excitement and anticipation of this much-awaited trip has prevented me from a good night's sleep. Enjoying these few hours of quiet now that all of the packing and preparations are complete. These will probably be the last hours of quiet for a full week, but I'm ready to roll; just hope all goes as planned but we'll deal with what comes our way - we're the Baker's Dozen and we're on a mission!
5:oo pm - JFK Airport
The stamping frenzy is finally over after arriving here at the airport after a comfortable van ride where Sue and I shared cheese, crackers, fruit, pepperoni, wine and beer to get us all fed and in a festive mood - as if any of us needed it! Anticipation and excitement is running rampant. What awaits us? Will we manage to make the trek to Cranmere? Will we meet the challenge of finding 100 letterboxes to make us eligible for the Dartmoor 100 club? Only time will tell.
Judy and the Carrington's [Alexis and Hugh] have joined our van-riding group of 10 so we are now complete - The Baker's Dozen - 13 excited letterboxers who are traveling over 3500 miles to Mecca; the place where it all began!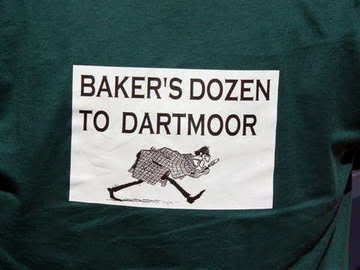 Gifts abound for the group. Geri supplied us all with green tee shirts with Baker's Dozen logo; Deanne & Dave have made personalized luggage tags with the Baker's Dozen logo; Rusty Puff has made the great Baker's Dozen team stamp, which we will use to log into books on Dartmoor - thus saving time and allowing us the maximum efficiency; Bonnie, our official photographer, will place all of her photos on a disk and mail to all of us once we return home; Mark & Sue have given the group small leather zip bags with chain to clip onto our belts for use in London and travel sized toilet paper for those emergencies on the moors; Butterfly has given us all neckerchiefs and fresh basil leaves for courage and luck for the trip; Judy made an Event Stamp and Event Folders so that we can all stamp in and keep as a memento of the trip. She has supplied a few additional Event Folders for those UK boxers that might join us during the trip. Judy also brought cupcakes for all to celebrate the Baker's Dozen concept with logo medallions stuck into the tops of each cupcake - but there are only 12! She's seen fit, in her teasing way, to get me a huge cupcake that is more the size of a mini cake! I guess she must have felt sorry for me being the only male in our cottage at Dartmoor with 4 other women!

Our flight went off very smooth. We hopped the pond in a huge 747 that held 359 passengers and flew at a top speed of 591 miles per hour at 35,ooo feet altitude. The total trip is some 3500 miles and took approximately 7 hours of travel time.
Saturday, September 18, 2004 - "We Arrive!"
Many of us could not sleep on the plane and with the time change, we landed in Heathrow Airport, London on Saturday at 8am and hit the ground running. After we picked up our 2 vans and a car, we were faced with a 4 hour ride to Dartmoor. Our hope was to do a little letterboxing at some of the buildings and pubs that house letterboxes on our way to our accommodations.

Driving on the "wrong side" of the highway in the "wrong" seat proved a little more difficult than I ever imagined. Those turnabouts [traffic circles] were brutal and dangerous! The driver's seat is where our passengers sit in the US and driving on the left side of the road puts Sue on the curbside. Corners and curves were difficult to negotiate and literally put Sue on the curb on several occasions. It was difficult for me to judge how close to the gutter I was - so - Sue, being Sue, came up with a wonderful hand signal to let me know I'm nearing the curb! She made a fist, with her thumb extended and pointed her thumb to my direction. All of the passengers in our van became very familiar with Sue's waving thumb and Bonnie even took a picture!!!

Our van, and car, which got separated from Alexis' van [something we would get used to!] managed to stop for 2 letterboxes on our way in - the first at Moretonhampstead and the second at the Warren House Inn. What beautiful vistas of hills, with patchwork greenery and stone walls, crowned with one of those monolithic tors. This beauty never became commonplace to us during the week and improved the deeper we ventured into the moors. Every corner we turned produced a different view and brought "oohs and ahhs" from the van. The sheep and wild Dartmoor ponies were something to see and watch for as we drove - a sight we would get more accustomed to as the week wore on. As the scenery improved, so did the narrowness of the roads. While two way traffic was permitted, several times the side view mirrors of our van brushed the hedge rows that border each side of the streets. God forbid we encountered a car! Then things really got fun! Thank goodness for the courteous Brit drivers that always waited in the pulloffs for us to pass.


In Moretonhampstead, we stopped for our first letterbox which we found by accident. The inn across the street, known as the White Stag Pub was supposed to have a letterbox behind the bar. When we asked the bartender, he checked and even phoned the owner. The box was gone and the new owner knew nothing about it. As we crossed the street, we saw a little souvenir type store. Sue suggested we ask the man behind the counter if he had a letterbox. I told her that there was no mention of this store in the Catalogue of Clues but she entered the shop and asked the shopkeeper, who then reached behind the counter and pulled out our first Dartmoor letterbox! Sue waved her arms in celebration and we excitedly stamped in and bought our first souvenirs from the store owner. Never had he seen such enthusiastic letterboxers!

On the way to the Warren House Inn, we stopped in a little village called North Bovey. There we took some wonderful shots of a Dartmoor Cross located in a little park that had commemorative engraved rocks for all of the special historical occasions, including most of the Queen's Jubilees.

The girls posed for a typical tourist picture in one of those renowned red phone booths located just off the green. After some posing and picture taking, we went into the Ring of Bells Inn as the Dartmoor Catalog of Clues listed a letterbox in this location. After asking the young lady behind the bar for the letterbox, she instructed us to look to the right of the phone booth - the very same booth where we had just taken pictures.

Rubaduc crawled on hands and knees, in search of the box, while Sue looked inside the phone booth and Deanne and Butterfly walked around, honing in on the box. When we still couldn't find it, a local man who was moving a tray of flowers asked if he could help us and wondering what we were doing. Thinking that since we were in England and that the public is widely aware of letterboxing, Rubaduc told him we were looking for the letterbox. He smiled wryly and pointed to the mail box that was cemented into the wall! He walked away laughing, think that we were just a crazy group of Yanks who couldn't find a place to mail a letter when it was right above our heads! We laughed, of course for a different reason, as we were looking for a real letterbox! This joke was good for many miles and we talked about this story for several days.

After a leisurely 6 hour trip and some traffic, we arrived at Langstone Manor. Great accommodations in the 2 cottages and 1 apartment in the Manor House. After getting unpacked and settled in, we heard a knock at our cottage and there stood 2 adults and 2 children, who asked if we were the Baker's Dozen from the US. These strangers soon became our good friends: Spannerman/Steve and his wife Ali and their 2 children, Saul and Bethany. They had stopped to visit with us after reading my last minute post to the UK Dartmoor talk list, detailing our schedule and inviting area boxers to stop and visit with us.

After inviting them into our cottage and calling the others, we exchanged with each other and he shared his and the rest of the family's travelers. In the UK, they do not exchange their signature stamps as we do. They register their personal travelers/stamps as they do their letterboxes, which all count as finds. After the stamping and exchanging, they then joined us for a pub meal at The Plume & Feathers in Princetown, where we also stamped into the letterboxes located there. Spannerman made plans to join us for our Cranmere Pool pilgrimage on Tuesday.

Spannerman/Steve, has been letterboxing on the moors for over 12 years and told me that his F count stands at over 5,000! I would see his Dartmoor 5000 patch as we ventured out to Cranmere later that week. This soft spoken man truly looks the part of a British letterboxer. His knowledge of Dartmoor is amazing and I learned so much from this wonderful stranger who quickly became a friend.

After we left the Plume and Feathers and had said goodbye to Spannerman's crew, we headed back to Langstone Manor and our cottages. A man approached Sue in the parking lot and asked if she was part of the Baker's Dozen. His name was Andy Wilkes, a UK letterboxer, who along with Chris and Louise Donovan [the college student from UK who we hosted a mini-gathering for so she could meet US boxers for her college dissertation], would be taking over the Dartmoor Exchange program. Andy has been letterboxing for only 1 and a half years and had been corresponding with Judy prior to our departure. He purposely camped at Langstone Manor for the next few days to be with us and show us the ropes. Andy, too, would soon become a great friend. Like Spannerman, the exchange process began with a frenzy. And, like the Spannerman family, Andy would also become part of our Baker's Dozen family.

After little or no sleep since Thursday night and all of the excitement on our first day here, this exhausted group of boxers turned in for the night, with dreams of hundreds of images of letterboxes crammed into our logbooks.