Sunday, September 19, 2004
"Our First Full Day on the Moors"

7am
It looked very cloudy out but I awaited the day to begin with anticipation . . . our first full day on the moors.
Andy Wilkes, the UK letterboxer who has been emailing Judy for months prior to our trip, is camping at Langstone Manor and will join us for the day. The plan is to hunt several of the tors that are known for scavenging.
Dartmoor letterboxers are not automatically given clues like we allow access to clues on our letterboxing.org website. In order to purchase the Catalogue of Clues, the main vehicle by which clues are distributed in the UK, boxers must prove their mettle by showing proof of finding 100 boxes. Without formal clues, the main method, besides Word of Mouth clues, is by visiting several of the tors known for abundant letterboxes, thus known for scavenging.
Scavenging is a little like going to an Easter Egg Hunt. You just walk along and start looking at all of the likely places that a letterbox may be hidden. Many of the UK letterboxes are hidden in 2 pill containers, or pill pots. These are usually thrown away by the pharmacists [chemists] in drug stores as they are the containers in which pills are sold by drug companies. There are 2 major sizes and the smaller size, which holds the stamp and logbook, is placed inside the larger pill pot. Similar to our double bagging technique here, but much more sturdy to help withstand the elements.
10:30pm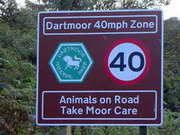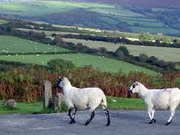 A great day of storming the moors! We visited the main scavenging areas of Staple Tor, Feather Tor and Vixen Tor. While our expectations proved higher than our actual count, we still had a great day out. And we didn't do bad for a group of scavenging Yanks!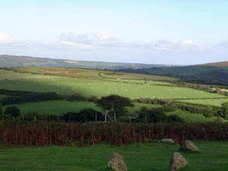 A view no matter where we turn!
We are still awed by the beauty of the moor, mixed with the abundant animals such as wild ponies, sheep and cattle. When we entered the car park [parking lot] for our scavenging this morning, there were several Dartmoor ponies looking for a handout. Many of us were able to pet them and take some pictures. One pony in particular was rubbing his backside on a rock. Hugh tried to show him the correct way to do this!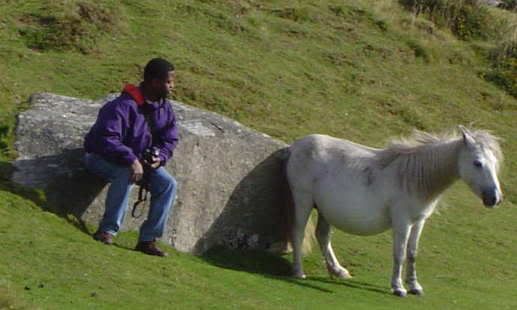 Hugh shows the pony how it's done
Dartmoor weather is known to change quickly. Several of our group were talking to a camper back at Langstone Manor when we were waiting for the rest of our group to come down to the vans. This camper, a long time walker on the moors, told us to be very careful on the moors. "The mist can come in quickly." Our thought was that she meant the fog, but Andy Wilkes later clarified that "mist" is a combination of fog and light showers and can all but reduce your view to a hands length ahead of you. Luckily, we never saw or had to deal with the mist on this vacation. But, we did experience many changes of weather on this first day - rain to clouds to sun to rain to sun then winds. But we kept at it, since we had a goal of F100 and the surprise to come on Tuesday night!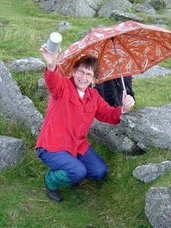 First of the day & FF to Rubaduc!
Rubaduc found our first moor box and was also First Finder on this box! Andy and several other letterboxers told us that being a FF on a Dartmoor box is a very prestigious thing. Since there are so many letterboxers on the moors, it is a very large accomplishment to hold that honor. This vacation would find one more FF for our group but more on that later. The Baker's Dozen was very excited! Rubaduc had broken the ice and found our first box - it was onward and upward from here!
Andy Wilkes is becoming a favorite of our group. He was teased so much by Rubaduc and others! We may do some permanent damage to US/British relations by the time Andy heads back home! Andy proved to be a wonderful guide and has helped kick our vacation off to a great start. After a wonderful day out on the moors, we ate at the pub on premises here at Langstone Manor. Our group was real rowdy tonight. Many of the others in the pub seemed to enjoy the banter and repartee from our group. As we walked out for the night, I turned to those remaining customers and apologized if we disturbed anyone and asked if they had any idea that there would be live entertainment here in the pub tonight. They all laughed but who knows what they said when we walked out! I know Andy's face was in a constant state of redness due to the talk and the teasing. At dinner, we presented Andy with one of the signed Randy Hall letterboxing books that I had secretly purchased to give to special people on our vacation and Andy truly fits the "special" bill.
After dinner, the group spent some time stamping into the HH's/Traveling Boxes that people from all over the country had mailed to me to take to Dartmoor. Along with the stamping, we shared stories from our first day out - memories that would stay with us for many a day.
Tomorrow morning will bring the arrival of our next UK letterboxing team - Louise & Chris Donovan. We are most anxious to spend some time with them and see them once again. The only down side to the day will be Andy's departure, later on in the day.