Wednesday - September 22, 2004
"We Bid Farewell to the Wonderful Moor"
After packing our 3 vehicles with our gear, The Baker's Dozen left our cottages at lengthen Manor Holiday Park.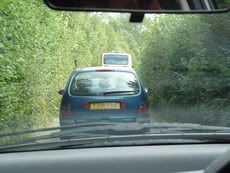 Our first stop of the day was the gift shop of the Dartmoor Prison. Chris had asked Hugh if he would be interested in a quick look at the Prison, since Hugh is a corrections officer in NY. While they went off, the rest of us entered the gift shop and asked for their letterboxes. We were able to stamp into 9 more boxes, bringing our final Dartmoor total to 191. We hope to come back in several years to get our Dartmoor 300 patch, since we are so close to the 200 already. This experience has been one that the Baker's Dozen will long remember. Some of the Dozen have already prefaced their remarks with "when we come back next time . . . " They have been putting pressure on Sue to let us return in 2 years, but she feels that 3 years will be more realistic. Next trip I think we will remain in Dartmoor for the entire week, without a 3 day stay in London.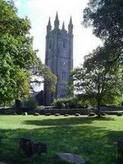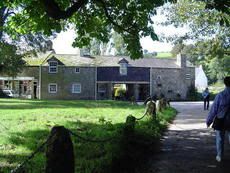 Our next stop for the day was the picture postcard village of Widdecomb on the Moor. With it's central green dominated by a beautiful old church, this hamlet seems to be placed back in time hundreds of years. It also must be a very large tourist stop, as the parking areas were filled with all of the latest and greatest touring buses. We decided to take an hour here to do some souvenir shopping that we had put off all week in favor of letterboxing and pubs! Several of the group stopped at a little cart that sold homemade icecream topped off with a dollop of clotted cream, a Devon well known favorite.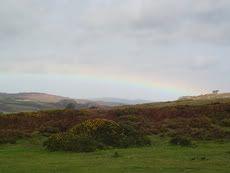 This rainbow was our last glimpse of the Moor
Back in the vehicles again, we headed towards Stonehenge, which would be our next destination. As we left the moor, the clouds and showers moved in - almost a mirror of our feelings for it seemed the further away for Dartmoor we drove, the more heartsick we became. The moor had entered our hearts and leaving was not an easy thing. Our group never got tired of the beautiful pastoral scenes that we would encounter around every bend in those narrow roads. The wonderful new friends that we had made while letterboxing here, who filled our days with memories - Louise and Chris Donovan; Andy Wilkes; Steve/Spannerman, Ali, Bethany and Saul Fanstone; Tony & Silvia Moore and Anne & Godfrey Swinscow. The sheep, with their many colors denoting ownership by specific farmers; the wild Dartmoor ponies that were not quite that wild; and the pubs, which became our gathering place in the evenings to enjoy a pint or two of a local beer, while reliving the finds and adventures of the day. This was truly a magical place.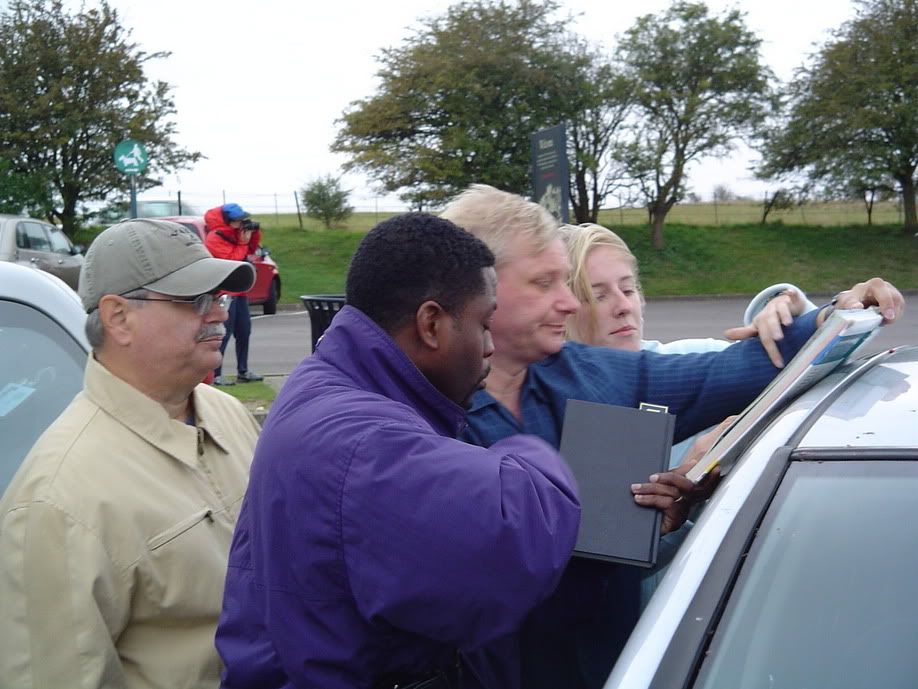 Last minute directions to London
Once we arrived at the Stonehenge parking lot, Louise and Chris said goodbye. The group posed for a final set of pictures with the Donovans, several of us consulted a map to find the best way into London and Chris and Louise were off but with a promise to visit us soon in the US again on their next trip to Boston. In such a short time, they have become like family to Sue and I and probably others in the group. Secretly [no longer now!] I had told Sue that I would love to fix Louise up with our youngest son, Steve . . . . but talk about a long distance relationship!
Chris and I share the same passion for letterboxing, as well as the interest in the important task of documenting the oral history of this pastime before more of these first generation letterboxers pass on. We were both amazed that no one had yet sat down with Godfrey Swinscow to record the history and his wonderful anectdotes of letterboxing that are stored only in his head. I asked God that night in Princetown if anyone had ever recorded his knowledge of the moor along with his hundreds of stories. He told me that there was an American woman who had written him several years before for that very purpose but God hadn't heard anything from her in years.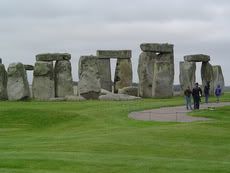 After our visit to Stonehenge and a quick lunch at the picnic tables by the parking lot, we headed to London. The closer to London we got, the more hectic the traffic became! The only saving grace was that the roads now were standard widths and we didn't have to deal with hedgerows and stone walls on both sides of a narrow, one car width lane!
We arrived at our London hotel, Country Inns & Suites in the Kensington section of London. Quite ironic since we had traveled over 3500 miles from Kensington, CT to Kensington, UK. After the check-in process, which could not have gotten any wilder since the lobby area was quite small and there were 13 of us, travel weary and laden with luggage! The bellman did his best transporting the luggage to the proper floors but it took part of an evening to sort out whose luggage was where! Many said their rooms were very small but Sue & I didn't utter a word - for some reason, we had lucked out with a very nice room which proved to be an asset for the group later on. Later we discovered that as tour directors, we were upgraded to a larger room - this would come in handy later on this week!
After quickly unpacking our clothes, several of us decided to turn in the vehicles that evening so as to avoid the morning rush and the new congestion fee that was in effect here. In order to help alleviate some of the traffic in London proper, the government had instituted in the spring a $10 per day charge for any vehicle driving within the heart of the city during the prime hours of 7am to 6pm. Alexis, Dave and I left the hotel with our trusty navigators: Hugh, Rubaduc and Sue. We entered the maelstom of traffic - as bad as New York City but everyone was on the wrong side of the road! One way street, beeping cars, crossing pedestrians - it was like a cab driver's nightmare and here we were, in the thick of things, already suffering from culture shock! Talk about extremes! The quiet of the moor to the hustle and bustle of one of the busiest cities in the world.
Two and a half hours later we dropped the cars off at the rental location - which was only a little over 2 miles away from our hotel! The traffic of commuters and getting lost, coupled with the maze of one way streets and darkness turned what we thought would be a twenty minute jaunt int a two and a half hour ordeal. The six of us took our first tube [subway] ride back to the hotel, where we went out for a quick, late evening meal and a well-deserved night's sleep.